Hi! I'm Zanz. I make games and music.
Read more about me

New and popular games
Mine Blocks

A free 2D Minecraft game, in Flash!
Dynamole

A fast-paced exploding cave-runner!
»
I'd Change the World for You

New and popular music
Secret Box

Most secrety secret in all of secretom!
The Place That Takes Shapes
»

Recent posts and events
"Mine Blocks in AS3!"
---
10/3/14 -

A big change is happening to Mine Blocks! ActionScript 3.0!
"Announcing Lab Lights 2!"
---
8/30/14 -

Here I'm announcing Lab Lights 2 and telling you what it's about!
"College!"
---
8/22/14 -

I rant about college, Mine Blocks, Ludum Dare, maybe a new game perhaps possibly!
»

Latest YouTube videos
What percentage is the Mine Blocks update at?
(This is highly estimated)
Unfinished projects
Lab Lights 2
Started August. 22th, 2014
An oblique-3D game about combining mechanisms to solve puzzles!

Mine Blocks 2
Started Jan. 7th, 2012
A very ambitious block-based survival game!

ZanzCode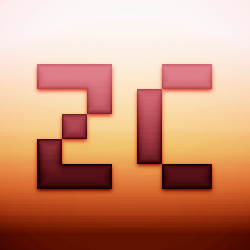 Started Sept. 9th, 2013
A programming language designed to help create and share games!

Maze of Mist
Started Apr. 29th, 2012
An infinite maze game! Currently on hold, I think.

And a bunch more!
I'm always working on something - coming up with new ideas, starting new test-projects, or applying something new I learned. Follow me around on the Internet to keep up with what I'm currently doing! :D
If you plan to create your own website, consider using
HostGator
as your host! Use the coupon code
ZanzLovesYou
to get
25%
off! :D
Seriously, I used HostGator, GhostID uses them... they're a great host! You should try them out!
The homepage has 5.0 million visitz. Thanks!